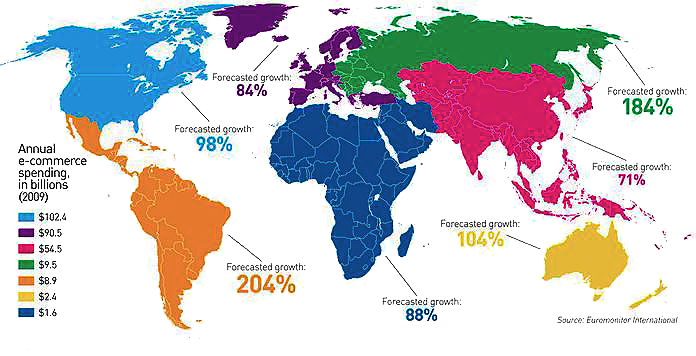 Forrester Research is one of the world's most respected research companies, providing its clients with information on the likely impact of technology on business and consumers and it's forecast on the growth of eCommerce up to 2016 is encouraging for those who can snare a section of the market.
According to Forrester online eCommerce retail sales grew 12.6 percent in 2010 to $US176.2 billion, with yearly growth until 2016 forecast to be about 10 percent when online purchases will account for about $US279 billion.
Globally Exploit Online Demand cites Euromonitor International research that shows in the next three years online eCommerce purchases will exceed $US524.5 billion, with triple digit growth forecast for Australia, the former Soviet Union, and Latin America.
The importance of content management systems for modern-day web design has already been stressed here, along with the importance of open-source software. Many people leap into the eCommerce environment with custom applications that either force the user to accept the template design and function features, or employ a  programmer to make make even minor changes.
Joomla, Drupal, and WordPress all have various free and premium designed eCommerce solutions available for those who want to get their hands a little dirty and build their own site in accordance with the limitations imposed by the various templates, which for many people is fine.
We've recently produced an online eCommerce demonstration site based on WordPress and the GetShopped WordPress eCommerce solution, where we also play with various WordPress plugins and scripts before installing them on our clients live websites.
The Pattaya Web Services eCommerce demonstration site is a completely working eCommerce site with a nulled check-out and various features and functions explained on each page. As a basic entry-level eCommerce solution, the Pattaya Web Services eCommerce demonstration site packs a whole bunch of powerful back-end plug-ins and features that will boost your website's results in search, including powerful search engine optimization tools (SEO).
The Pattaya Web Services eCommerce demonstration site is partly developmental and partly showcase, and as such occasionally things we play with on it don't work as intended.
We apologize in advance and ask that if your find a feature or function broken on our eCommerce demonstration site you drop us a note using the eCommerce demonstration site contact form.
The design and layout of the Pattaya Web Services eCommerce demonstration site is purely arbitrary. For commercial implementations we can change the landing page look and feel to suite the requirements of the website owner and many options are possible.
Our eCommerce website price includes a custom designed landing page and internal page templates, a whole host of powerful tools, a sales notification and reporting system, integrated PayPal,  Google, or ChronoPay checkout gateway, full SEOing of content, starter blog posts and much, much more.
If you are currently battling with an outdated FrontPage- or Dreamweaver-based eCommerce website that is a problematic for updating, offers limited flexibility or expansion capabilities, or which just isn't getting results, contact us by email, or by using the online contact form
ENDS:
Global eCommerce sales are forecast to exceed $US549 billion by 2014 according to Euromonitor International. Chart: Courtesy Euromonitors International
Forester Research predicts online eCommerce sales in the USA to top $US279 billion in 2015. Source: Forrester Research
Our demonstration eCommerce websIte is based on WordPress CMS and is a development site where we play with different WordPress tools in an eCommerce template we use for clients looking for an entry level eCommerce solution that they wish to propagate and maintain themselves, and includes links to useful SEO tools and article writing, story editing and text spinning software for journalists and writers
eCommerce, website design, WordPress, WordPress CMS, WordPress plugins, GetShopped, Pattaya website deisgn, Pattaya eCommerce website design